Art Show Now Open
Posted on June 1st, 2020 at 10:02 AM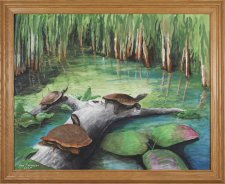 The Jay & Mona Kang Virtual Art Show and Sale sponsored by the Barber National Institute is now open online through Sunday, June 21.
The show includes galleries of more than 400 pieces of artwork created by adult and youth artists from throughout the region that are available for sale, including paintings, photographs, sculptures and other media.
"We have tried to take what our visitors have loved about the show, which is the wide variety of artwork from artists in the region, and make it widely available during this time when we are asked to avoid large gatherings of people," said Laura Schaaf, director of Giving at the Barber National Institute. "As we look for new ways to socially connect as a community, we see how art offers us all a way to do that. The way that it enriches our lives can bring us together while we may physically be apart."
The online galleries will include photos of all of the artwork with the dimensions of every piece. Viewers can select pieces to add to their online cart and make their purchase through a secure check out site. Buyers will be notified of the date and time that they can get their purchased pieces in a curbside pick up that will be held at the Barber National Institute, or they can arrange for mailing through Pony Express.
Artists will receive a commission from their sale, although some artists have chosen to donate their entire commission to the Barber National Institute. "The support from the community is especially important to us as we continue serving our vulnerable populations at this challenging time," said Schaaf. "We are providing life-sustaining care around the clock to residents in our 95 group homes, as well as assisting more than 500 families with services that enable them to keep loved ones at home. These and other services, such as behavioral health therapies and educational support for our students, are continuing, and we are very grateful for donations that are helping us in carrying out our essential mission."
This year's show will also feature more than 15 paintings that have been created by adults in the Fine Arts program at the Barber National Institute, including pieces that artists came together to create in collaboration.
For the first time, the show will also include an online auction featuring a selected piece each week during the course of the show.
"We've embraced this new opportunity to bring art to the community, support local artists and support the mission of the Barber National Institute. Our team has done an amazing job of moving quickly to bring this all together for the region to enjoy," said Schaaf. "We think that it will be something that the community will really support."
For more information, visit BarberInstitute.org/artshow or call 814-480-6810.