Art Show in Warren
Posted on January 9th, 2017 at 8:08 PM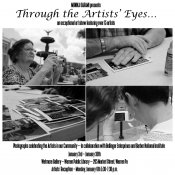 The Barber National Institute is participating in "Through the Artists' Eyes," a Documentary Photography Art Show at the Warren Library Wetmore Gallery, 205 Market Street in Warren.
Warren artist Monika Garami worked with Bollinger Enterprises (BEi) and the Barber National Institute to develop the show. Many of the pieces, including those made by youth and adults with disabilities and Garami, are available for sale. All items purchased at the art show can be taken at the time of purchase and the proceeds will benefit the artists.
The Show continues through Jan. 30, 2017.