Annual Pittsburgh Art Show February 9th
Posted on January 20th, 2017 at 1:44 PM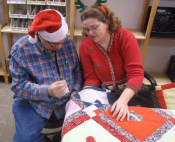 Make sure to mark your calendars! Please join us on Thursday, February 9, for the Annual Pittsburgh Art Show, sponsored in part by the Savvy Group. The Art Show will be from 5 p.m. to 7 p.m. at the Adult Training Facility in Bridgeville.
The show will feature works created by our consumers, both individually and in groups. Come and meet the artists, and enjoy light refreshments while judges review the artwork. The winning pieces will be on display at the Art Show in Erie in April! Artwork is available for purchase, with the proceeds going to the artists themselves.
There will also be a raffle for a quilt which was handmade by our adults. Tickets are $2 each. Raffle tickets will be sold separately.
PHOTO: Brenda Pettit (right), associate instructor, and Gerard Kierzkowski work on a quilt to be displayed at the Art Show. The quilt will be raffled at the end of the show.