Adults Shine at ESO Prom
Posted on June 10th, 2019 at 7:59 PM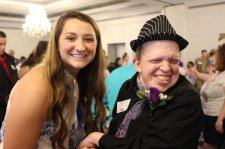 More than 200 adults had a wild time at "Safari Soiree," this year's Prom sponsored by the Barber National Institute Expanding Social Opportunities (ESO) program. The event was Friday, June 7 from 6:30 p.m. – 9:00 p.m. at the Bel-Aire Hotel and Conference Center at 2800 West Eighth Street.
Unlike many other dances, the Barber National Institute ESO Prom is open to all adults with intellectual disabilities or autism throughout the region. The ESO program was developed by the Barber National Institute with volunteers from all local colleges who assist at seven dances held throughout the year, in addition to the Prom.
"This event offers adults a great opportunity to do something special. Many adults look forward to getting dressed up and really make a night of it," said Jaclyn Zacherl, associate director of Family Focused Services. "It is also an opportunity for adults to socialize with their peers and with their college age peers who volunteer at all of our dances."
Many local vendors donated items to the prom, including refreshments sponsored by the Corry VFW and Curtze Foods, and corsages and boutonnieres created by college students on the ESO Council. The Bel-Aire Clarion also offered facilities for the occasion at a reduced cost.
Robin Davis from Hair Cutz is provided free makeup and hair styling for more than twenty women attending the prom. Last month, Davis also worked with Planet Hope to bring dresses to the Barber National Institute where adults could select their perfect outfit free of charge. Dressy attire and accessories for men and women were also donated by many generous people in the community to be made available to promgoers. After shopping to select their outfits, adults were able to take all items free of charge.
This marks the fourth year for the Adult Prom, although the ESO dances have been held for more than 18 years in the community. They are supported by volunteers from Gannon University, Mercyhurst University, Edinboro University and Penn State Behrend.
For more information, contact Jaclyn Zacherl at Family Support Services at the Barber National Institute at 878-4088.