Adapted Course Obstacles to Get Go Ahead
Posted on July 25th, 2014 at 6:52 PM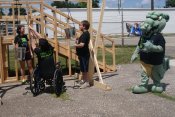 The committee planning the Barber Beast on the Bay Maureen Riazzi adapted course is hoping for two "thumbs up" as adults with disabilities test the course obstacles for the final time. All obstacles are completed—except for getting the seal of approval from some of the adults who will be participating in the event on Sept. 6. The final test will take place on Thursday, July 24 at 1:30 at MGM Construction, 933 West 19th Street (two blocks west of Liberty). After any final adaptations are made, the construction crew will disassemble the structures and pack them for transporting to Presque Isle State Park.
"Of course our first priority is to make sure that the obstacles are safe," said Lindsay Kalika, a teacher at the Barber National Institute and chairman of the adapted course committee. "But it's also important that the obstacles are fun—not too difficult but still a little challenging."
Six obstacles will be located along a 1.2 mile out-and-back loop on Old Lake Road that begins and ends near Beach One. The obstacles are customized to accommodate both ambulatory participants and those using a wheel chair. Adults testing the obstacles include Dominic Olivieri, age 23, and Kory Danowski, age 22.
"We believe that this is the only obstacle course challenge that is designed for people with disabilities," said Kalika. "Last year, many individuals and families were a little uncertain about what the event would be like, but all of those who participated had a great time."
New this year is a portion of the adapted course that will intersect with the 10-mile Barber Beast on the Bay course. Participants from both courses will come together and cross the adapted course finish line together.
"We wanted to give the participants on the 10-mile course the opportunity to see what this event is really all about," said Kalika. "Everyone—the participants, the sponsors and the volunteers—are really supporting services that are making a difference in the lives of children and adults with disabilities.
The obstacles will have adapted course participants shuttling cannon balls, going over or under hurdles, rowing oars to raise a flag, filling and hoisting buckets of sand, and scaling ramps.
"We are really confident that the obstacles will be getting a seal of approval," said Kalika.
More information, including maps and registration for both the adapted course and the 10-mile course are available at BarberBeast.org. Information and registration forms are also available at the Barber National Institute and at Blackburn's medical equipment showroom, 308 East Sixth Street.