2022 Art Show
Posted on February 25th, 2022 at 7:15 PM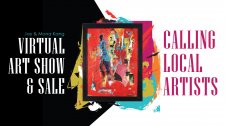 Three community partners, UPMC Hamot, UPMC Health Plan and the Hamot Health Foundation, have become award sponsors for the 2022 Jay & Mona Kang Art Show & Sale sponsored by the Barber National Institute.
Awards are determined by a panel of judges from the community. In both the youth and adult artists categories, the Best of Show awards will be $300 and honorable mention awards will be $100. Best of Show awards for Photography for youth and adult artists will receive $300, with honorable mention awards receiving $100.
In addition, the People's Choice Awards selected by show viewers are being reinstated for 2022 and a $100 award will be presented for each for the winning youth and adult artists.
"We are very grateful to UPMC Hamot, UPMC Health Plan and the Hamot Health Foundation for helping us to recognize the award-winning artists," said Bridget Barber, vice president for External Affairs at the Barber National Institute. "Their sponsorship demonstrates their commitment to fostering the arts and in supporting the goals of our art show to encourage artistic expression across our communities."
The art show has become one of the largest and most diverse exhibits since its creation in 2008. Artwork for the 2022 show will be accepted at the Barber National Institute from 11 a.m. – 4:30 p.m. on Thursday and Friday, March 24 & 25 and from 10 a.m. – 1 p.m. on Saturday, March 26.
The show will be presented virtually with the Donor Debut launching on April 21 and the show opening online for the community from April 25 – May 6.
Information and artist registration forms are available at barberinstitute.org/artshow.