2019 Beast Winners
Posted on September 13th, 2019 at 5:49 PM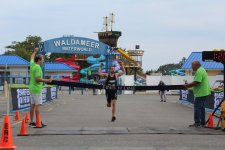 Everyone who beasts is a winner because you're all supporting services for children and adults with disabilities at the Barber National Institute. But we do have awards for participants who lead the pack in completing the course and raising funds.
The award for the top male finisher in the Elite Wave was presented to Andrew Hellman of Erie, a five-time first-place finisher, with a time of one hour, 20 minutes and ten seconds. The award to the first place female Elite finisher was given to Ashley Bean from Conneaut, Ohio, with a time of two hours, six minutes and 57 seconds.
The award for second place male was given to Chad Gross of Cambridge Springs, while Tadd Morris of Wilkinsburg, PA won the third place male award.
The award for second place female finisher was presented to Alexandra Pribonic from Erie, and Molly Welch of Erie received the award for third place Elite female.
Participants who signed up to fundraise raised more than $13,000 for the Barber National Institute in 2019. The highest fundraiser for the second year in a row was Jim Dobrich, who raised $4,241. The second place fundraiser, Emily Smelts from Indiana, Pennsylvania, raised $1,515, and third place fundraiser Desiree Davis of Erie raised $1,405.
All fundraisers received prize packages for Peak 'n Peek resort or Splash Lagoon donated by Fundraising sponsor Scott Enterprises.