2018 Disability Employment Awareness Event
Posted on October 19th, 2018 at 1:15 PM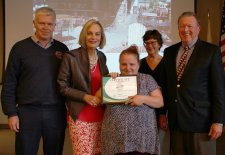 For 42 adults, finding a job in the community became a reality this past year with help from the Supported Employment Program at the Barber National Institute. Those adults—and the area employers who gave them an opportunity—were celebrated during an awards ceremony for Disability Employment Awareness Month on Thursday, Oct. 18.
This year, individuals found employment in fields that range from food service, hospitality, janitorial, tailoring and customer service.
Since it began in 1986, the Supported Employment program at the Barber National Institute has placed more than 700 adults with disabilities in jobs in the community.
National Disability Employment Awareness Month has been celebrated since 1945 as a way to raise awareness about disability employment issues and focus on the many and varied contributions of America's workers with disabilities.