2017 Ball Chair Couple Announced
Posted on June 26th, 2017 at 4:31 PM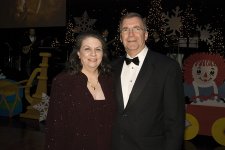 Joe and Rhonda Schember have been devoted volunteers and supporters of the Barber National Institute for many years, and we are honored to have them as chair couple for the 2017 Christmas Ball.
Both Erie natives, the Schembers became part of the Barber National Institute family in 1985 following the birth of their youngest daughter, Jodi, who was born with Down syndrome and later also diagnosed with autism. Since then, there has scarcely been an event or cause at the Barber National Institute that they have not championed.
Joe has been a member of the Board of Directors, where he has been instrumental in serving on the Finance Committee. Rhonda has been president of the Elizabeth Lee Black Parent Group and chairwoman of the Ladies Only Luncheon.
Their favorite day of the year is when they transform into Santa and Mrs. Claus, spending an entire day visiting with each and every student in their classrooms and at the school Christmas Party.
They are now reprising their role of Ball chair couple that they held in 2008 when they led one of our largest and most successful galas.
The Schembers are also the parents of Joe, Jodi's twin brother, and daughter Jaime.
The entire family is excited about spearheading this year's Christmas Ball!