Conner Jersey Raffle
Posted on June 6th, 2019 at 1:38 PM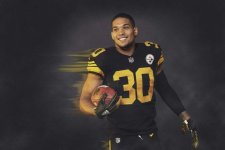 Your chance to win a Pittsburgh Steelers jersey signed by star running back James Conner!
The Erie native set records at McDowell High School and the University of Pittsburgh before getting drafted by the Steelers in 2017.
Conner finished the 2018 season with 973 rushing yards, 12 rushing touchdowns, 55 receptions, 497 receiving yards, and a receiving touchdown and has already been named a starter for the 2019 season.
While at McDowell, he played running back and defense, leading the school to quarterfinal playoffs his senior year, after rushing for 1,680 yards with 21 touchdowns, setting school single-season records with 164 points, including 26 touchdowns, and 12 sacks.
Off the field, Conner is known for his courageous comeback after fighting Hodgkin's Lymphoma in 2016 and his inspiration to other young people fighting cancer.
About the jersey:
Nike authentic replica black jersey
Signature and #30 signed on the number on the back
Tickets $10 each or 3 for $25; all proceeds benefit services for children and adults with autism, intellectual disabilities or behavioral health challenges at the Barber National Institute. Drawing will be held Thursday, June 20 at the Shillelagh Golf Tournament; winner need not be present.
Due to the rescheduling of the Shillelagh Golf outing, ticket sales will remain open until Wednesday, July 17 at noon.
A generous donation from Amy Derlink in appreciation of the services provided to her sons, Luke and Jonah, as we have worked with them to achieve their dreams.