2021 Shillelagh Man of the Year
Posted on June 3rd, 2021 at 8:04 PM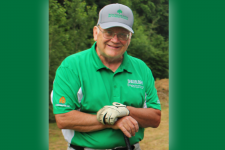 Growing up in a working-class Erie neighborhood showed Joe Fries the value of hard work. It also taught him about the value of philanthropy, a lesson that has had a huge impact on the people and organizations that he has helped across his lifetime.
His longstanding support of the Barber National Institute, as well as other causes in the community, has led to his selection at the 2021 Shillelagh Man of the Year.
After retiring from the Prudential Financial Company, Joe became committed to using his financial background for civic improvements. He developed the "Thousandaires Club," a program directed to helping disadvantaged teens learn financial skills. By teaching students in the Erie community learn how to save $1,000, he believed they would build a lifelong understanding of the importance of saving.
Joe also served on the boards of the Erie County Industrial Development Corporation, the Erie Development Corporation, Booker T. Washington Center, the Saint Vincent Health Center Board of Corporators and other organizations.
Joe's association with the Barber National Institute actually dates back to his mother, who was a friend of Dr. Gertrude Barber. When Joe's sister Kathy struggled with special needs after graduating from high school, he said that Dr. Barber enrolled her in the Center's employment program. There, she learned the skills for her first job at Coin Laundry. Kathy would marry Dennis, a young man also served by the Barber Center, and Joe guided the couple as they purchased their own home. He still recalls when Kathy called to inform him that, through their hard work, the couple had paid off their mortgage.
Years later, Joe credits Erie Mayor Joe Schember for inviting him to attend his first Barber Christmas Ball. Since then, Joe and his wife, Debbie, a realtor with Coldwell Banker, have both attended and sponsored many Barber events. An avid Shillelagh participant, Joe is proud of winning the tournament in 1997 and still has the photo of Dr. Barber presenting the award to his foursome.
Joe and Debbie are the parents of three adult children and have four grandchildren.