2019 Shillelagh Man of the Year
Posted on April 4th, 2019 at 6:22 PM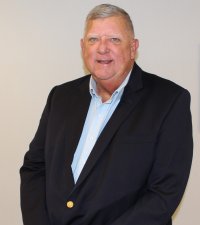 John Downey's commitment to the Shillelagh Golf Tournament began with a simple question more than 25 years ago. Dr. Gertrude A. Barber called him in to ask, "Do you think this is a fun-raiser or a fund-raiser?" Ever since then, he has worked diligently to make sure that it is both – an event that brings friends and supporters together, and one that helps to fund the mission of the Barber National Institute.
John's meeting with Dr. Barber came soon after the birth of his daughter, Mary, with Down syndrome. He agreed to become one of the original Shillelagh Committee members, and has worked every year to ensure the event's success.
In 2016, John retired from Erie Beer, where he worked for 35 years in a number of positions that included manager of sales and operations.
In addition to daughter Mary, John and his wife, Jeanne, are also the parents to Colleen, and grandparents to Kiera and Emma. John enjoys golfing, fishing, boating, and fulfilling what he calls his "lifetime appointment" to the Shillelagh Committee.