2017 Shillelagh Honoree
Posted on June 1st, 2017 at 1:09 PM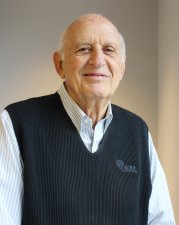 Peter Russo, Sr. has been active in the community's athletic and educational endeavors for more than 50 years. After beginning his career as an elementary school teacher, Pete went on to direct parks and recreation programs for both the City and County of Erie. He also served as the Erie County director of Administration for four years before becoming director of Athletics for Mercyhurst College. During his 18 year tenure, he expanded athletics from 16 to 25 sports and supervised the construction and staffing for all new athletic facilities at the Erie and North East campuses. He was also chairman of the NCAA Division II Men's Basketball Committee for the Great Lakes Region.
Pete earned his bachelor's and master's degrees in Education from Gannon University, where he was the captain and leading scorer for the college's varsity basketball team for two consecutive years. He also was a PIAA and college Men's Basketball official for 35 years and was inducted into the Erie Sports Hall of Fame.
Pete joined the Advancement office part-time at the Barber National Institute in 2012, where he has been instrumental in securing funding for the gym renovation and wireless connectivity project in all 52 Erie group homes. He has raised more than $100,000 in donations, including $24,000 in funding over four years from the Erie Siebenbuerger Club for a SeaWolves baseball clinic for children and adults
Together with his in-laws, the Riazzi Family, Pete cosponsored the Barber Beast on the Bay Adapted Course for children with disabilities.
Pete and his wife, Flo, are the parents of five children and have five grandchildren.