2015 Shillelagh Honoree
Posted on March 23rd, 2017 at 7:31 PM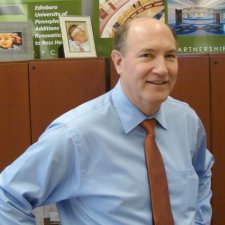 Congratulations to Robert Marz, who will be honored as the Shillelagh Man of the Year at this year's tournament. Robert is president of Roth Marz Partnership, a full-service architectural firm with offices in Erie and Allentown. An Erie native, Robert attended Cathedral Prep High School and Penn State University School of Arts and Architecture.
Some of RMP's projects include the Erie Intermodal Transportation Building, East High School, Ross Hall at Edinboro University and Southeastern Veterans Community Living Center near Philadelphia, PA. Robert is also very active in the community as a member of several non-profit boards.
A long-time supporter of the Barber National Institute, Robert has provided architectural direction for the Barber Beast on the Bay since its inception three years ago.
Robert and his wife, Gerrie, have four children, a son-in-law, two daughters-in-law, a soon to be daughter-in-law and five grandchildren.