Artwork Entry Conditions

In-person exhibit open to the community from Friday, April 14 through Monday, April 17.
Online galleries open for browsing and making purchases Friday, April 14 – Thursday, April 27.

Art Submission:
Artwork can be dropped off at the Barber National Institute on:

Thursday, March 2, 11 a.m. - 4:30 p.m.
Friday, March 3, 11 a.m. - 4:30 p.m.
Saturday, March 4, 10 a.m. - 1 p.m.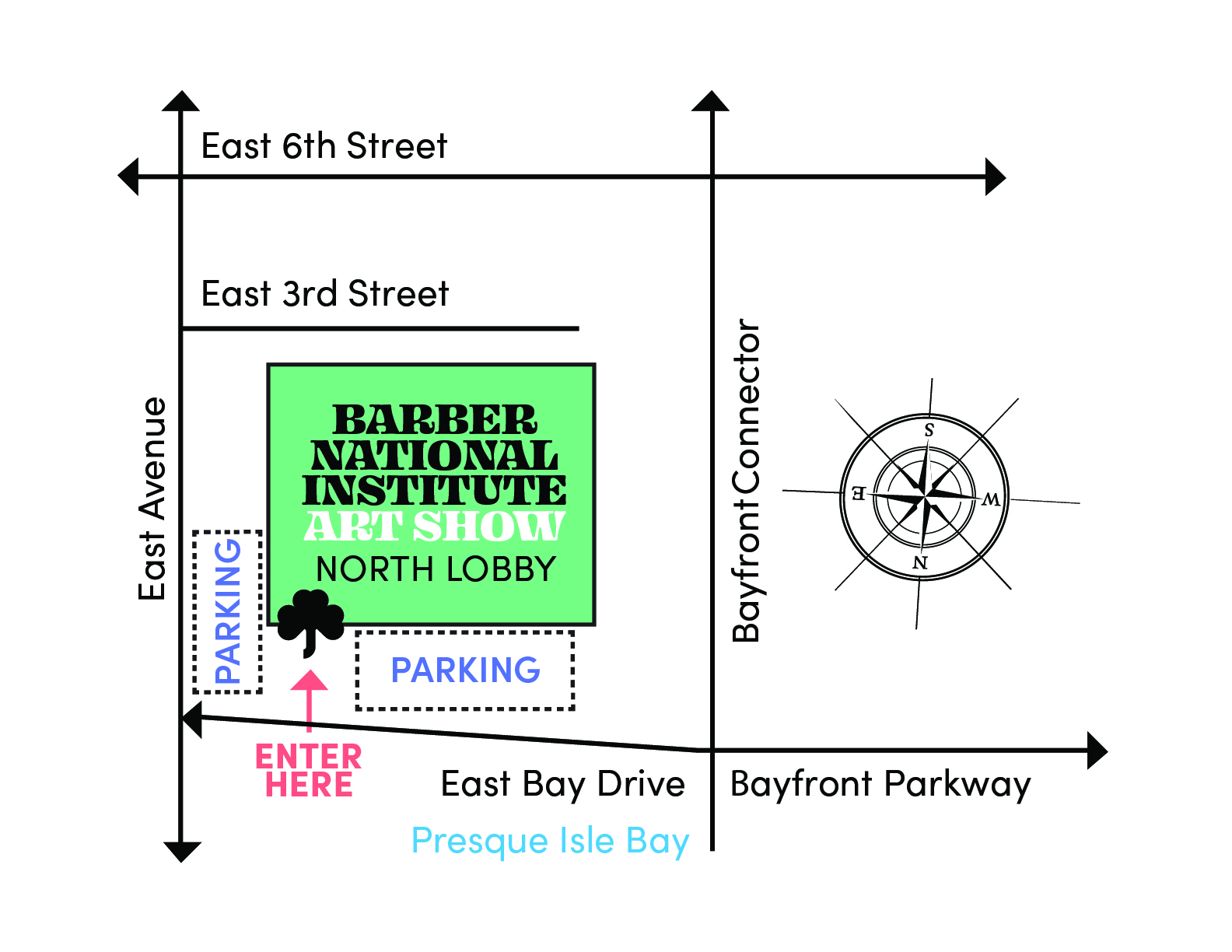 Barber National Institute | North Lobby
100 Barber Place
Erie, PA 16507


2023 Artist Awards:
Cash awards will be presented in youth and adult artist categories; separate awards presented for photography. Winners will be notified prior to the show.
A panel of judges will select artwork for the following awards that will be presented in both the Youth and Adult Categories:
Best of Show:

$300

Honorable Mention:

$100 (up to three awarded in Adult and Youth categories)

Best of Show Photography:

$300
Honorable Mention: $100 (up to three awarded in Adult and Youth categories)
Monetary awards also presented for youth and adult "People's Choice Awards" voted on during the in-person show. Winners will be announced when votes are tabulated following the show.

Pick Up of Art:
ART PICKUP FOR BUYERS WHO PURCHASE ARTWORK FROM APRIL 13-21:
Friday, April 21 from 11 a.m. - 4:30 p.m.
Buyers, if you couldn't make it on April, 21, please come on the dates below.
ARTISTS ARE ASKED TO PICK UP THEIR UNSOLD WORK ON:
Friday, April 28 from 11 a.m. - 4:30 p.m.
Saturday, April 29 from 10 a.m. - 1 pm.
Artwork remaining after this is considered abandoned and becomes property of the Barber National Institute.
Important Information:
Cash, check (payable to Dr. Gertrude A. Barber Educational Institute) and debit/credit card payments accepted.
Artwork must be submitted with an entry form that can be completed and submitted online. An entry label also must be affixed to the back or underside of each piece. Artists may submit up to two pieces. Due to space limitations, both pieces might not be accepted into the show. Artists will be notified in advance if their submission(s) will not be included, and will have the option to pick up their art prior to the show.
Artists must set their price and cannot change prices after submission; "price on request" is not accepted. A minimum price of $25 is required. Not for Sale (NFS) artwork will not be accepted.
Due to the high volume of artwork, packing materials left with a submission may not be able to be returned. We can not be held responsible and artists should take home anything they want to use again.
Artwork will not be accepted after March 4.
What is Accepted:
Submissions that are to be hung must be delivered framed, wired, and ready for hanging. Unframed artwork that cannot be hung will not be accepted. A frame exhibited with the piece is included as part of the sale of that artwork.
Works in all media may be entered, including painting, photography, graphics, sculpture, ceramics, etc. Crafts and jewelry cannot be accepted.
Conditions of Submission:
Although every precaution is taken to protect artwork and frames, entries are submitted at the artist's own risk. The Barber National Institute reserves the right to photographically reproduce any work for publicity or educational purposes and to include the name of the artist in all promotional materials.


Sale of Artwork:
To help benefit services at the Barber National Institute, a 25% commission is charged on all sales; any additional donation by artists is greatly appreciated.


For More Information:
Call the Barber National Institute, 814-480-6810