Sensory-Friendly Santa Time Offered at Millcreek Mall
Posted on November 23rd, 2015 at 9:12 PM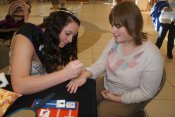 Families Invited for Sensory-Friendly Santa Time at Millcreek Mall
A visit with Santa is one of childhood's cherished memories—for both children and their parents. But parents of youngsters with autism or other special needs know that the stimulation of a mall crowded with holiday shoppers can turn a fun outing into a difficult experience.
To meet the needs of children with autism and other intellectual disabilities, the Barber National Institute will sponsor a Sensory-Friendly Time with Santa on Sunday, Dec. 6 from 9:30-11 a.m. in the center concourse at the Millcreek Mall in Erie.
This event will provide a low-key environment for children and families to enjoy their time with Santa. It will take place outside of regular visiting hours and music will be turned off, creating a less stimulating and calmer atmosphere. Families will receive a number when they arrive, and children can relax in a play area until their turn is called. To make the experience with Santa even more memorable, the Barber National Institute will offer face painting and holiday crafts for the children to create.
A photographer will be on site to take photos of the children with Santa. While parents/guardians are not permitted to take their own photos, Santa's photographers will provide a $2 off coupon for any family who would like their child's moment with Santa captured.
For more information, please call the Barber National Institute at 814-878-5903.