Community Pool at The Barber National Institute - 814.878.4071
In addition to serving children and adults of the Institute, the pool has a widely varied program for the community. From 1:00 pm to 2:00 pm weekdays, an Arthritis Foundation Aquatics Exercise Program is conducted. There is an Arthritis Foundation Certified Instructor in the water and the exercises we use benefit all patrons as well as those who suffer from arthritis pain and immobility.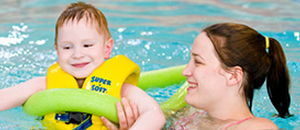 This state-of-the-art facility has a movable floor that rises to the level of the deck and lowers to 4 1/2 feet. No patron has difficulty entering and exiting the water and will not be in water deeper than themselves. We have a wide variety of equipment and floatation aides that can be used to enhance the enjoyment of swimming.
The average pool temperature is 90 degrees which is soothing and therapeutic for body aches and pains.
Waterproof chairs are also available and for wheelchair bound patrons to help them enter the water with ease and use our shower facilities.
The Arthritis Foundation Aquatics Program is on-going. You may view our current schedule below.
Learn-to-Swim Lessons with American Red Cross Certified Instructors
$65.00 / 8 week session for non-members. (This fee is applied to any membership if you wish to continue with lessons starting with the next session.)

$12.00 / Private Lessons
Memberships
$170.00 / child – annual (includes 4 Learn- To- Swim sessions)

$410.00 / family – annual (includes 4 Learn-To- Swim sessions for each family member)
These memberships benefit the Learn-To-Swim Lessons and Family Swims only.
$45.00 / additional session within membership year.
Arthritis Aquatics and Adult Open Swim
$4.00 / 1 hour swim.

$24.00 for 8 visits (=$3.00 / visit)

$44.00 for 16 visits (=$2.75 / visit)

$54.00 for 24 visits (=$2.25 / visit)
Discount cards available.
Family Swim
Discount cards may be used.
Members – no charge
Pool & Gym Rentals
$60.00 / hour – pool and 2 lifeguards

$50.00 / hour – gym
Children under 6 years of age:
Must be accompanied by an adult in the pool at all times.

Swim for FREE during family swim.
For questions or more information about the community pool at the Barber National Institute, contact Mary Kaliszak at MKaliszak@barberinstitute.org.